Open Studio Tour 2002
For the first time in 2002, the Mobile Studio was open during the Nevada County Arts Council's Open Studio Tour. In case you weren't there, you can take a quick tour now!
Festivities began Friday evening, with a reception at Foothill Flowers. All the high-powered movers and shakers in the Nevada County art scene were there. Even I was there. Wow! Above the crowd, you'll see the Sunflower on display. It's amazing - even hung just above arm height, at the far end of a room, over the hors d'oeuvres and wine, many folks don't see it -- they look straight ahead or down. Then a bit of color catches their eye, they look up, and there's wonder! The mobile is doing it's job.
If you follow the detailed treasure hunt instructions in the tour booklet, you will eventually find my studio inside this large garage. Sure is bright blue, isn't it?
One great thing about giving a studio tour is that it creates necessity -- to focus, get all systems working, and fill the studio with fresh art. Walking into the studio, this is what you'll see in the main display area. If you'd like to see closeups of some of the installation artworks, click here.
The other good part about giving a studio tour is interacting with others in the context of the artwork. After all, the art doesn't do much good if it just stays locked up in my studio and no one sees it. It also provides the "opportunity" to be photographed in dorky poses. In this obviously staged "candid" shot, you see me with Constance Smith, proprietor of ArtNetwork, who specializes in giving artists tools to market their work, looking at one of my mobiles and asking, "Why did you make that?" And since I just plugged her business, I might add she did buy a few mobiles for her office. Now I just have to shoot that photographer.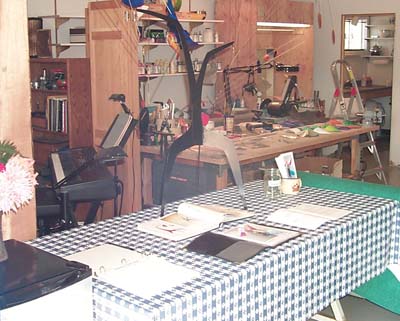 Finally, on the way out, I'll ask you to sign my guestbook, give you a brochure, and write up an invoice for all the artwork you couldn't keep yourself from buying. In the background here, you see the metal working table, and the painting area. For better images of the work areas of the studio in production mode, click here.
Related pages
Closeups of the studio tour installation.
(c) 2012 David Christie, all rights reserved
.